A G E N D A : 2 0 1 9 > >
E X H I B I T I O N S :
[The Walking Body] Gallery of the Minho University Guimaraes Portugal december 2018/2019.
[Meesterlijk] Davidsfonds ⋈ Sint-Jacobus De Meerdere Kerk Beveren Belgium 16.05 > 20.05.2019.
[Equilibrium] Palazzo Albrizzi Bienale Venice Italy ⋈ Curated by Mary Patricia Warming [USA] 2019.
[Fingers Don't Know What The Hand Will Do] with Annelies Slabbynck ⋈ CAS Ostend Belgium 2019.
[Walking Bodies] travelling exhibition: Barcelona, New York, Sao Paulo, Thessaloniki, Athens 2019.
M A D E - O F - W A L K I N G . [ V ] :
[Walking Bodies] [5th International Meeting] University Western Macedonia ⋈ Greece 01.07 > 07.07.2019.
P O D . C A S T :
[Talking Walking] Pod cast with Andrew Stuck [Museum of Walking London UK] 2019.
[Hello Today Podcast] interview by Carlo D'Agnolo 2019.
V I D E O : I N T E R V I E W :
[Bon Fim Talk] video conversation projects Rosário Forjaz & Stefaan van Biesen Porto Portugal 19.01.2019.
L E C T U R E + W O R K S H O P :
[Science of walking] Esc. Art. de Soares dos Reis with Rosário Forjaz ⋈ Porto Portugal 16.01 > 18.01.2019.
[Library of Walks] Academy of Fine Arts ⋈ Ieper Belgium > 21.03.2019.
[Library of Walks] [Made of Walking V] University Western Macedonia ⋈ Greece 01.07 > 07.07.2019.
P H O T O + M U L T I . M E D I A :
[Motor!k] photo album cover [vinyl/CD]. Motor!k: Belgium alternative rock band 2019. Dirk Ivens.
[STOFF vzw] a monthly photo contribution website. Organisation for asbestos victims in Belgium 2019.
S O U N D S C A P E S :
[Sound Walk Sunday] a sound/walk project by the Museum of Walks ⋈ London UK 01.09.2019.
S T U D E N T S . M E E T I N G S :
[Library of Walks I] Studio visit & talk. Students Academy of Fine Arts ⋈ Ieper Belgium > 27.03.2019.
[Library of Walks II] Studio visit & talk. Students Academy of Fine Arts ⋈ Ieper Belgium > 03.04.2019.
P R O J E C T S :
[I, Dandelion...] an artistic joint research with botanist/artist Rosário Forjaz [Porto, Portugal] 2019/2020.
[Fingers Don't Know What The Hand Will Do] an ongoing joint project with Annelies Slabbynck 2019.
[Traces of Memory] an ongoing, current project with Dr. Shaomin Xue [China/Belgium] 2019.
[Traces of Rain] an ongoing, European current project 2019.
[Utopia, just around the corner?] a nomadic traveling book 2019.
More info about the projects in 2019 > >

chronologically: scroll to the bottom for the projects in the beginning of the year 2019 until now > >
[Sound Walk Sunday] global community event London UK. September 01.09.2019.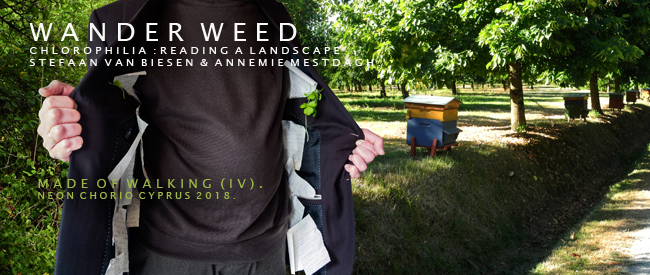 Sound Walk Sunday 2019 will take place on Sunday 1st September in the UK [London], as part of a week-long festival of sound walking events and performances beginning on the 1st September, globally celebrating outdoor audio, geo-located, immersive performances, listening walks and sound walks. In the coming months, we will be issuing calls for walking pieces that have been produced since Sound Walk Sunday 2017, and for new work to be premiered on Sound Walk Sunday 2019.
The museum of walks is a demanding party for various like-minded artists and walkers to have an artistic [sound] project take place on the same day. For this crossing border project, Stefaan van Biesen and Annemie Mestdagh are doing a Wander Weed session [Plant(e)scape Made of Walking IV Akamas Cyprus 2018, The Walking Body Minho University Guimaraes Portugal 2019], in Beveren Belgium. People are invited to a performative walk that is a mix of a lecture, a conversation and an exercise. The theme of this event is our relationship with plants and plant intelligence.
Sound Walk Sunday 2017 was inaugurated at the Made of Walking International Gathering at La Romieu, in south west France on the 27 August, 2017. We are delighted to renew our relationship with Made of Walking for Sound Walk Sunday 2019.
http://www.museumofwalking.org.uk/our-events/sound-walk-sunday/
[MOTOR!K] photo album cover New Belgium alternative rock band 2019.
MOTOR!K LP/CD out 19.07.2019 through Out Of Line / Rough Trade distribution.
Album cover photo by Stefaan van Biesen
MOTOR!K Belgium based band founded in 2018. Stepping out of their comfort zone and leaving their musical habitat these keymembers challenge new experimental fields inspired by the Krautrock movement from the 70's with an updated touch. Step into their world and let them take you by surprise. MOTOR!K are Joeri Dobbeleir [Guitars-Synths], Dirk Ivens [Guitars-Fx] and Dries D'Hollander [Drums].
[(What) The Body Knows] Made of Walking (V) Prespes Greece. the Milena principle 01.07 > 07.07.2019.
Made of Walking (V) walking bodies 2019.
Walking encounters/conference in Prespes - Greece, July 1-7 - 2019.
Department of Fine and Applied Arts of the University of Western Macedonia - the Milena principle.
This performative walk '(What) The Body Knows' is part of the Library of Walks that has been started by Stefaan van Biesen since 1990. From this ongoing process various applications grew, realized in Europe and Brasilia in collaboration with curator-writer Geert Vermeire. For Made Of Walking (V) in Prespes, Stefaan van Biesen, together with Annemie Mestdagh, designed a portable nomadic library that is carried by a group of participants.
The carriers become the artwork. In this way, a mental and energetic field becomes a space specific practice. They feel their togetherness and become aware of each other's physical presence, through the object/prop that they carry together and that is functioning as a 'conductor'. During walking (and breaks), they are asked to explore the surroundings with an observing alertness and to absorb the scenery.
People carrying a portable library. The slightly meandering, streamlined shape of the ultramarine blue canvas, (in ancient Greece there was no name for the colour 'blue') *1.), refers to the nearby Little Prespa lake. Also a link to the fate of refugees. While observing, participants are asked to collect items they notice on their way in the environment nearby, small significant artifacts. The pieces can be put in pet bottles (or later in glass jars), which are attached to the blue canvas. This gives the walk a ritual dimension in which a collection is created that is representative of the biotope where the action takes place. This way the natural and social identity of a place is archived, documented.
Being together in silence, carried away by a human energetic stream, walking as a sensitive experience, must lead to a collective act that sensitively reinforces the walk.
Practical, lost and found: If someone during the walk is noticing something that he wants to pick up for the collection, then the participant raises the arm to stop the group. The person next to him then will take over, holding the rope/handle for a moment. And so the object found can start to travel when the group leaves.
Intentionally this walk is an exercise focusing on our attention, awareness, creating tension and letting it go. There are also letters/stories of refugees that are part of the prop that are carried with and will be read during the walk. And for the occasional stops, the participants can add, then (or later), texts, notes, sketches, to the traveling library. * 2.)
(What) The Body Knows: refers to the human capacity to regenerate wisdom intuitively from our body: the body 'knows'!
Notes:
* 1.) According to people in Greek traditional villages, blue is the color that can keep the 'evil eye' (matiasma) away.
* 2.) The glass jars can be used within a museum context for the Library of Walks exhibition. During the walk itself Pet bottles are provided / or transparent reusable environmental bags.
[Fingers Don't Know What The Hand Will Do] CAS [Contemporary Art Space] Ostend Belgium. 08.01.2019.
Annelies Sabbynck & Stefaan van Biesen. Curated by Nadine Prieels.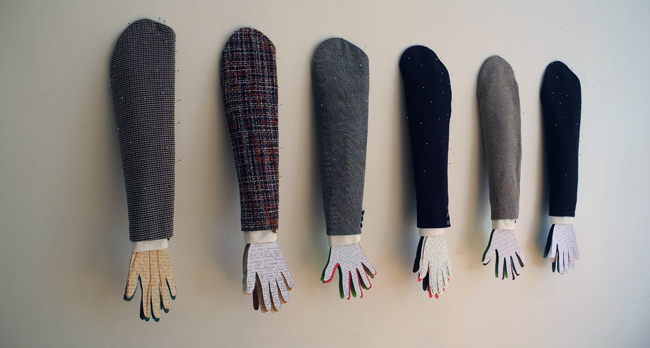 Letters written by several people who came here to Europe as refugees since the 1990s. Their handwritten letter in their own original language contains an anecdote or a story about their flight to Europe. The hope of a safe life with better living conditions. The contents of the letter remain with the artist and the writer. What remains is the image of a handwriting letter in the shape of a hand. A silent witness of suffering or joy. Realisation sleeves: Annemie Mestdagh.
During the years in the work of Annelies Slabbynck and Stefaan van Biesen, 'hands' have always played an important role. This is what binds them philosophically and artistically. They also share a nomadic vision in which their work travels through the world. This conclusion was the start of a joint project where new works are created and maybe earlier works are being redefined. Work that originated through various perspectives such as work used during or for performances, video and exhibitions. The whole project is a joint process where interaction can arise on each other's work or an artistic response to a specific work of both.
[Equilibrium] Art Science Exhibits at Palazzo Albrizzi Bienale Venice Italy 01.06 > 01.08.2019.
We are a parallel exhibition to the Venice biennale at an official biennale venue with official pavilions inside. The Taiwan and Guatemala Pavilions are in our same palazzo.
We are happy to announce our next exhibition program during the 2019 Venice Biennale:
Art/NaturSci Pavilion: Equilibrium Exhibition May 10 - August 1st Palazzo Albrizzi-Capello - Associazione Culturale Italo-Tedesca.
Large-scale ecosystem recovery has been tried and tested in Africa, China, and the Middle East. Permaculture planted today can breathe carbon from the atmosphere tomorrow. As artists working with scientists for nature, we exhibit Equilibrium. Together with you, we can reclaim paradise. Vernissage in Palazzo's Courtyard: May 10th, 6:30 pm Gala Gallery Opening: June 1st 5:30 pm - Concert "Il suono degli angeli" Church Santa Sofía Strada Nova, 4193, 30121 Venezia VE, Italia 6:30 pm - Gala Opening at Palazzo Albrizzi-Capello Exhibition's Opening hours: Tuesday to Sunday 10:00-13:00 15:00-18:00
Featured artists: Ayame Ono - Japan Beric Henderson [Australia], Brent Dedas [USA], Elisabeth Pellathy [USA], Frederika Adam [USA], Gerardo Nolasco [Mexico], Haishu Chen [China], John D. Liu [USA/China], Manuela Fischer [Switzerland], Lothar Schiffler [Germany], Matthias Gorenflos [Germany], Megumi Baba [Japan], mp Warming [USA], Sonal Mithal [USA], Stefaan van Biesen [Belgium], Stefano Zaratin [Italy], Skunk Control [Australia], Ying Kit Chan [USA].
Curator Mary Patricia Warming [USA]
About: Set in motion by international artist mp Warming, Art Science Exhibits is an independent venture created, and consistently recreated, by artists and scientists. The exhibitions and public programs we present work to greater the sphere of ArtSci conversation. Our mission for the future of nature-kind is to bring artists together with scientists as true conceptual partners. ​
Actions: We create exhibitions and networks for art and nature science experiences.
Projects: Previous exhibits include Bird Architecture at the Institute Library in collaboration with scientists at Yale University and the Peabody Museum of Natural History and Appealing to the Populous in partnership with Humboldt-Universität zu Berlin's Thaer-Institut of Agriculture and Horticulture, Humboldt-Universität zu Berlin's Campus Nord Branch (Biology) Library, and the Museum für Naturkunde Berlin. Our first Berlin project opened for Berlin Science Week 2017. Participating artists attended from Belgium, France, Israel, Italy, Japan, Korea, Mexico, New Zealand, Russia, the UK and the USA.
Future: Building on the framework of exhibitions, we envision ArtSci laboratories that increase contact between artists and scientists, and lead to cutting-edge creations. For the 2018 Berlin Science Week we are continuing to partner with Humboldt-Universität zu Berlin's Faculty of Life Sciences, while adding more artist-scientist collaboration. In the next steps we are also planning an Art/NaturSci Pavilion to open for the 2019 Venice Biennale.
https://www.artscienceexhibits.com/
[Votum Vovit (Arnolfini Drawings)] Meesterlijk Haasdonk Beveren Belgium 16.05>20.05.2019.
Votum Vovit [Fingers Don't Know What The Hand Will Do], 2019. 7 drawings on acid-free A4 paper, text, photo, mixed media. This ensemble of 7 works is a personal commentary on Jan Van Eyck's work, the painting: 'Arnolfini and his wife': (drawings, prints, photo, text 1992).
Jan Van Eyck as a diplomat, practitioner of Alchemy, the iconography of domestic mysticism, the symbolic gesture: Fides (marital oath), etc ...
The ensemble spans a series of works, installations that have been made around this theme regularly since the beginning of 1990.
Wanderlust drawings on acid free paper.
[Hello Today Podcast] interview by Carlo D'Agnolo 24.04.2019.
Listen on Spottify Podcast: http://hellotodaypodcast.com/episodes.html/
A conversation between Carlo D'Agnolo [Hello Today Podcast] and Stefaan van Biesen about his ideas, works, the Milena principle, friendship, art, students, Babbelonië [teaching Dutch to immigrants], international projects, personal history and entrepreneurship in the art world. Time: 01:02:43.
[STOFF vzw] monthly photo on the internet page for asbestos victims in Belgium 2019.
STOFF vzw is a non-profit organization that is dedicated to bringing stories and testimonials of asbestos victims (and family members) to the attention in our society. In some regions of Belgium a lot of asbestos has been used in buildings in the past. In the long term, many have become ill, usually with fatalities and a very painful ending.
The danger is widespread and everywhere. Everyone knows people in their environment who die from the effects of exposure to asbestos.
On demand of Johan De Vos [art critic, writer and photgrapher], every month a photo of Stefaan van Biesen is posted as a 'gesture of beauty' of the local landscape on the website and also sent in a news letter by e-mail. These photos do not immediately want to illustrate the cause of this health problem, but the landscape 'climate', in which a material such as asbestos often occurs.
[Bon Fim Talk] Rosário Forjaz & Stefaan van Biesen Porto Portugal 19.01.2019.
[A Bon Fim Talk] A conversation between the Portugese artist Rosário Forjaz and Stefaan van Biesen (Belgium) about the art project 'Meander' and 'the Library of Walks' in the Escola Artistica de Soares dos Reis in Porto 2019 by Stefaan van Biesen & Annemie Mestdagh. Also a conversation about their contribution and performative walks: ['Light Walk' and 'Enter The Triangle'] during Made of Walking (III) in La Romieu France August 2017, an international meeting of artists who work on the theme of 'walking'. Camera: Annemie Mestdagh / the Milena principle 2019. Time: 21:53.
Utopia Book [just around the corner?] Academy of Fine Arts ⋈ Ypres Belgium > 21.03.2019.
Workshop/lecture/studio visits.
Menin Gate and the city of Ypres Belgium > 21.03.2019.
A silent walk with the students of the Academy of Fine Arts Ypres.  The Menin Gate is the most famous Commonwealth war memorial in Flanders and perhaps the world. Tens of thousands of soldiers passed through here on their way to the front, many of them never to return. Opened in 1927, the memorial bears the names of 54 896 soldiers who were reported missing in the Ypres Salient between the outbreak of war and 15 August 1917.
'Utopia (just around the corner). A silent group walk, moving in a flow through a city like Ypres with no other intention then to get lost, with a book, inspired by Thomas More's, but containing only one word, "Utopia". It is a book that resembles a walk, it is not linear, it opens from different angles, it has pages folded in pages, you can open and browse it in different directions, not a book to be read, but a book to be shared spontaneously between the participating walkers, to be carried around in silence and to be opened on places that come towards them, as an inviting to open and read the place, the walkers and the moment in which they stand.
ARTISTIC SALON at the Ypres academy.
On Thursday 21 March 2019 the "first artistic salon" of this year will take place. We welcome - not coincidentally on the first day of the spring landscape artist Stefaan Van Biesen (°1953, Beveren). With his art he mainly enters into a dialogue with nature. Subjects such as body-mind, nature-culture, ecology and economy form the starting point in which these apparent opposites do not turn out to be irreconcilable. By means of interventions in the landscape, installations, diary notes, soundscapes and drawings Van Biesen travels through different areas. He is therefore not the classical artist who creates a creation solitary in the studio but sees art as a way of communicating with the environment and with each other. We would like to invite all interested parties to the large studio at 20 o'clock, to join our local salons in this wonderful artistic story.
Helena Pinket [Art Historican Academy of Fine Arts Ypres Belgium].
Lecture Stefaan Van Biesen 21.03.2019. Large studio in the Academy.
[Science of Walking] lecture/workshop Esc. Art. de Soares dos Reis ⋈ Porto Portugal 16.01 > 18.01.2019.
Workshop and lecture with the students of the Escola Artistica de Soares dos Reis in Porto. Co-orginased by fellow artist Rosário Forjaz.
Promenadology is the topic of the mutual artistic research of Stefaan van Biesen with a visual, sonoric and phenomenological approach, referring to Spaziergangwissenschaft (Science of Walking) as introduced by urban sociologist Lucius Burckhardt in the 1990ies. This collaboration leads to new and complex interpretations of this science of walking. More than a tool for esthetics and science, walking becomes a quality of the human improving awareness, making a new sense for the urban human kinetics and becoming an artistical, esthetical and social approach of the urban space.
Artist talk by Stefaan van Biesen. About his walking practive and how this relates to digital media, sound, drawings & performances. The oeuvre of Stefaan van Biesen departs from an associative solidity between thinking, acting, environment: 'how do thoughts manifest themselves via acts in our environment, what extent do they contribute to our well-being?'.
Meander. [Stefaan van Biesen, Annemie Mestdagh] Walking is an instrument of knowledge and experience in the artistic work of Stefaan van Biesen. Concepts such as silence / time / body / mind, influenced by Eastern approaches, are situated in a Western way of thinking. Stefaan van Biesen invites you to a silent walk / performance: 'Meander' where concepts like 'turn on / let go / lead / trust / care' are the underlying ideas. In this constellation of influences [of feeling and being involved], the participant becomes, like the co-walker, the work of art!
Concept and prop: Stefaan van Biesen and Annemie Mestdagh / the Milena principle. Outdoors. Duration: 20 minutes. Photo: students during the Meander walk in Soares dos Reis 18.01.2019.
Walking Talking interview by Andrew Stuck [Museum of Walking London UK] 2019.
[Talking Walking] Made of Walking ⋈ La Romieu France 27.08 > 01.09.2017.
Delighted to say that Andrew Stuck [Museum of Walks London Uk] has got around in 2019 to editing the Talking Walking interview with me in the summer of 2017 in La Romieu during Made of Walking (III). A pod cast made by Andrew during a walk with him. A walking talk about work and art in relation to my 'Library of Walks' and 'Letters to a Tree'. Listen here:
https://www.talkingwalking.net/stefaan-van-biesen-talking-walking/
[Intimacy] Guardainfantes [1994] S&H De Buck Gallery Ghent Belgium 07.12 > 28.02.2019.
Guardainfantes [1994] is about the intimacy of sheltering, to seek protection by grandmother. Something that once was obvious for children (while working on the fields). It is also a tribute to my own grandmother, Clemence, who in the Second World War took care for 48 children at her house. Temporarily or for a longer period of time. She and her family just did it as a social task, without complaining, as if it were self-evident, without having something in its place. Children from neighbours and family that became refugees by the war.

The name 'Guardainfantes' refers to the Spanish origin of my family bloodline and grandmother. Our Spanish ancestors who stayed here in Flanders through the Spanish occupation in the 16th century.
[The Walking Body] Gallery of the Minho University Guimaraes Portugal 2018/2019.
Art works + digital prints by Stefaan van Biesen & Annemie Mestdagh with results of the workshop-encounters the walking body at the School of Arts + Architecture in the University of Minho, Guimaraes - Portugal.
the Walking Body, is an art project framed, in our perspective, by the conceptual movement of promenadology (Spaziergangwissenschaft) which was conceived in the eighties by Lucius Burckhardt in Kassel. The German thinker saw the body as a valid scientific tool capable to improve the urban life in society. Giving continuity to this scientific assumption, we add, in our approach, an aesthetic transgression of the Walking Body which punctuates a new poetic distribution of the human experience of vagrancy. In an osmotic way, the phenomenology of the body redefines the social space as an emotional transparency, beyond the invisibility of the urban protagonists trapped in the accelerated transit of the technological motion. the Walking Body is an euphonic territorial conquest of the natural and the urban, the landscape and the city, through kinetics and perception, by redesigning the idiosyncrasy of a walker with the place.
Drifting and vagrant bodies define a nomadic way of the human communication by exposing us in a porous emotion of the being. The limits of the habitat of the Walking Body will be configured by the amplitude of the affective event and not by architectural gestures of a rigid and permanent rational construction.
Text/research by Simona Vermeire Art works by Stefaan van Biesen Workshops and walks by Stefaan van Biesen, Annemie Mestdagh and Vermeire Geert the walking body in Guimaraes - coordinated by Miguel Bandeira Duarte curated by Vermeire Geert
The project is hosted by Lab2PT and EAUM Licenciatura em Artes Visuais (School of Architecture - Visual Arts) of the University of Minho and in partnership with the art collective The Space Transcribers and the Museum Nogueira da Silva Braga - Portugal
Exhibition about The Walking Body with the students of the Minho Universtity Guimaraes Portugal [The Art Department]. An exhibition as a proces, a lab.
2020 > > upcoming projects > >
[I, Dandelion...] a joint artistic research by Rosario Forjaz & Stefaan van Biesen 2019/2020.
The dandelion: edible and healing The dandelion actually has a negative image or at least a dull image. The plant is removed from the garden, too, because it is unsightly for the otherwise beautifully smooth lawn. If it is not unsightly for the lawn, then this plant suddenly pops up along a wall where a piece of stone is broken. In short, the plant pops up verywhere and we don't want it anywhere in the garden. Yet the dandelion has more to it than we are aware of it. The dandelion even has healing power. What's up with that?
A project as a proces, a lab. More info soon.