P A S T : P R E S E N T > Time lab
En écoutant du Schumann
Melancholia, S&H De buck & university of Ghent 2000. Based on a dispute between the two famous Belgium Fin de Siècle painters: Fernand Khnopff and James Ensor. Ensor accused Khnopff of plagiarism.
En écoutant du Schumann, Fernand Khnopff 1883 La Musique russe, James Ensor 1881.
Obstacle passage obstacle

in situ installation
the vagabond/the prodigalson 1516.
Installation / Reconstruction of the little gate on the painting of Hieronymous Bosch: 'the lost son'. A similar landscape as the original (Museum Boijmans-van Beuningen, the Netherlands).

Photo: installation Speelhoven Aarschot Belgium 1994/1997.
[Obstacle/Passage/Obstacle]: 'Speelhoven' Aarschot Belgium 1996 - 'Artificial Landscape' [Betoverd Bos] Schuurlo Sint-Maria Aalter, Belgium. [curator: Angelique Campens] - 'How Long Is Now?' Biscainhos museum Braga Portugal 2010.
World kitchen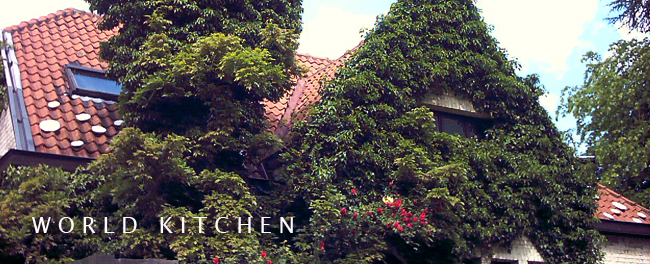 Art Project [Breugel en Vandaag]. Several artist were aksed to make a tribute to Breugel [1525-1569] at the Herman Teirlinckhuis in Beersel Belgium [2002]. The house is situated in the region where Breugel once lived.
Fragments form the paintings 'spreuken' and 'Boerenbruiloft' made by Breugel.
'World kitchen'
Breugel & today' Herman Teirlinckhuis Beersel 2002. 60 rice pies made in plaster.
Wild Man Variations
Video performance based on pagan paintings and wooden ornaments in the old Christian house chapel in Castle Cortewalle Beveren Belgium. Art project 'Corpus' [1998].